Economy
Over 10 Million Job Openings, Why Are There Still 8.4 Million Unemployed?
Over the past 4 months, I have visited several states, some red and some blue, all with help wanted signs throughout major cities.
Where are the workers? Employers are having to slow growth as they have not been able to get even former workers to get off the couch, especially lower-wage workers. In CA some restaurant chains are advertising a starting wage of $18 an hour to take a fast-food order.
The specialty industries are having a really difficult time as they tend to start as apprenticeships, with more a rigid list of expectations. I spoke with a metals fabrication company in San Jose that is going to high schools trying to convince the seniors to learn the trade starting at over $20 per hour. Very few takers in the end.
The Labor Department is reporting there are 10 million job openings across America in a variety of industries. If there are jobs, why are there 8.4 million people still looking for work?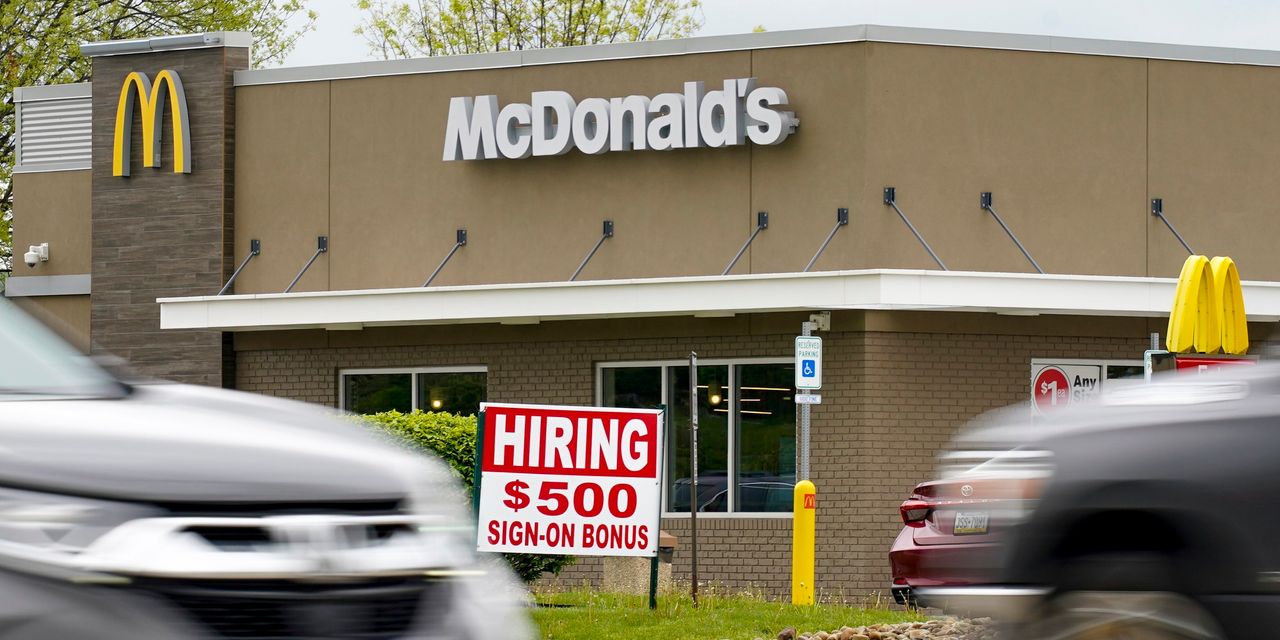 Right off the top of my head was the terrible left's decision to pay workers more to stay home than they were making prior to the initial shutdown. The GOP tried to add a provision in the bill to not allow people to be incentivized to not work but lost they lost the argument in the end.
Another change has been workers have become accustomed to and are enjoying the freedoms associated with Remote working. There are millions of employees who worked from home during the pandemic and liked the convenience, the flexibility, and the opportunity to be with their families. Many of them who were laid off have decided to look for another job with more flexibility.
Some labor experts are calling this change in the business environment  "The Great Reassessment" in which both employers and workers are reassessing their options in a changing workspace that, when it all shakes out, will alter the concept of holding a job in America.
At heart, there is a massive reallocation underway in the economy that's triggering a "Great Reassessment" of work in America from both the employer and employee perspectives. Workers are shifting where they want to work — and how. For some, this is a personal choice. The pandemic and all of the anxieties, lockdowns and time at home have changed people. Some want to work remotely forever. Others want to spend more time with family. And others want a more flexible or more meaningful career path. It's the "you only live once" mentality on steroids. Meanwhile, companies are beefing up automation and redoing entire supply chains and office setups.

The reassessment is playing out in all facets of the labor market this year, as people make very different decisions about work than they did pre-pandemic. Resignations are the highest on record — up 13 percent over pre-pandemic levels.There are 4.9 million more people who aren't working or looking for work than there were before the pandemic. There's a surge in retirements with 3.6 million people retiring during the pandemic, or more than 2 million more than expected. And there's been a boost in entrepreneurship that has caused the biggest jump in years in new business applications.
It doesn't help that most of the job openings right now are not in the same occupations — or same locations — that people worked before the pandemic.
Recommended: For Liberty Media Podcasts
There's also a fundamental mismatch between where the jobs are now and how many people used to work in those industries. For example, there are 1.8 million job openings in professional and business services but fewer than 925,000 people whose most recent job was in that sector. This mismatch can be seen across the landscape of employment as industries like education and health services seek to add to payrolls when workers aren't interested — at least, not interested in working for the amount of money they're being offered.
In recent months, heath care workers and educators have quit their jobs at the highest rate on record, stretching back to 2002, Labor Department data show.

"This is typically the time of year we recruit for the upcoming school year, but we literally can't get enough candidates, and we're seeing tenured people leave," said Cindy Lehnhoff, a 36-year veteran of the child care industry who currently heads the National Child Care Association. "If you get one good candidate, there are 10 others contacting that same person. It's a crisis. People can't work without child care."
In the end, the Biden administration incentives could be part of their push for a $15 minimum wage nationwide.
It will not help in states like CA, but it sure would be a huge bump in wages in smaller cities in the flyer over states and those whose businesses choose to pay what someone is willing to work for, not what the state says they must.
Please check out and download my latest or any of my "For Liberty's Sake" podcast